Colin: back to school
I entertain this fantasy of going back to college,
the famously erudite Colin once said, and he has indeed managed to do just that to some extent — if not literally by signing up to obtain another degree, by keeping company with a crowd of college professors, critically acclaimed writers and award-winning poets, and by participating in a variety of arts competitions over the years as a juror.
Roughly ten years after he first matriculated at Peterhouse College, the oldest college in Cambridge, where he studied Raymond Carver, John Cheever and other writers
dealing with the tensions of post-war American society
, Colin participated in a marketing campaign for the University, posing for a photo with then-current students from both state and private schools for a poster entitled "
Put Yourself in the Picture
." The poster was
designed to break down some of the stereotypes that deter able students from applying to Cambridge and encourage more state school applicants.
Colin starts telling people how he intends to set up a fellowship of rock'n'roll at Peterhouse with an entrance exam that would include sections on joint-rolling and how to deal with groupies.

His experience as a musician has actually come in handy in the academic circles in which he travels. In 2004, Colin participated in the annual sixth form conference run by Radley College in collaboration with St Helen & St Katharine, speaking on "IT and the challenge of change."
Cory [Doctorow] will be talking about DRM [digital rights management] and, in the run-up to this event, I [David Smith] have begun chatting with Colin Greenwood (Radiohead), getting the views of an artist, someone without whom there would be no music to share in the first place.

Colin, Jyri [Engeström] and Cory gave memorable talks, and there was a great "panel" session with Cory sitting alongside Colin, fielding questions from some very engaged students.

David Smith, a friend of Colin's who teaches English at Radley, maintains the excellent blog,
Preoccupations
, that Colin once recommended to fans on Dead Air Space, and that Smith in turn has used to thank Colin and his wife Molly for their
book recommendations
.
Molly, of course, has been a bit of an influence as well. A novelist and poet who has also worked as London Editor of the literary magazine
A Public Space
, Associate London Editor for
The Paris Review
, and as a writer and reviewer for
The Times Literary Supplement
, Molly taught an undergraduate creative writing course at New York University while working on her MFA in the late nineties. Her first novel,
Three-Sixty Flip
, was dedicated to Colin.
The couple keep up with the literary world together in part by attending talks and readings by the likes of John Burnside and Robert Bly (
I went to this Robert Bly lecture in New York a few years ago. He talked about the primacy of the human voice as the musical instrument...
).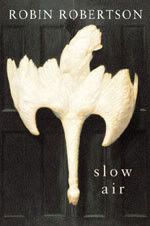 In another example of friendly logrolling, in 2004,
Robin Robertson
was named by the Poetry Book Society as one of the
Next Generation
poets, a competition for which Colin served as a juror:
[Colin] mentions homework he has brought on tour. I'm grading poetry for a competition, he said. Thankfully, most of it is great. I wouldn't want to be stuck in a hotel room in Japan reading bad poems. That wouldn't be fun.

Two years earlier, in his 2002 collection of poetry,
Slow Air
, Robertson had dedicated a poem to Colin and Molly:

THE OVEN MAN
For Colin Greenwood and Molly McGrann

The house re-inflates
Its skin of heat:

tightens it up
to the screen door,

frames creaking,
like a boat at anchor.

The burners cut out
before the roof lifts.

The house rustles,
and ticks, and clicks off.

During all this commotion,
I am inside, in expansive mood,

relaxing
like a Sunday roast

in my juices,
my puddle of blood.

Colin has also participated on the judging panel for the
Forward Prizes for Poetry
.
Colin's interests are not limited to the literary. In 2006, having already frolicked (
rather infamously
) at the Sundance Film Festival some years back, Colin busied himself — post summer tour with Radiohead — by serving as a juror for competition strands for the inaugural
BRITDOC Festival
.
BRITDOC, which will become an annual festival, will highlight the social, political and cultural importance of documentaries, and their power to impact on individuals, organisations and societies. It also provides a platform for British documentary filmmaking talent and aims to stimulate the market for documentaries in the UK, enabling British filmmakers to make feature documentaries that have the ability to be seen by audiences worldwide.

It's not difficult to imagine Colin shifting gears entirely when Radiohead eventually call it quits, launching a new career as an adjunct professor of Modern English Lit, and developing a cult following on campus of hip, young, smarty-pants writers.
RESOURCES FOR THE COLIN WANNA-BE