"When I'm not on tour I'm busy with the family and the dogs and that's it really."
"How many dogs have you got?"
"Two dogs."
"How many kids have you got?"
"Two, two kids. One wife; not two wives. That would be — outside the state of Utah — that would be illegal."

Good point, there, Colin! In fact, the members of Radiohead are notoriously uninterested in hedonistic, Zeppelin-style groupie bedding, preferring to maintain personal relationships and sanity on the road by spending thousands of pounds on phone calls and flying partners across continents and oceans for visits. "
One of the benefits of being successful is flying someone you care about across the country. That's nice.
" Off tour, Colin hangs out at home reconnecting with friends and family, planting sweet peas in his garden and tending to the baking and recycling.
So what will Greenwood do during his time off?
"Anybody else would go away," he replied. "But, for us, after touring for so long, being on vacation means staying home in Oxford and rebuilding our lives with our friends and loved ones. That's our way of preserving our sanity."

But how did Colin become such a grounded, down-to-earth family man? His close family ties have been rather well documented; however, it continues to amaze journalists that he and younger brother Jonny have survived about two decades of being in a band together and yet remain friends.
A self-described army brat whose family at one point lived in Germany long enough for him to pick up the language, Colin Charles Greenwood was born in England on June 26, 1969. His father passed away when he was only seven years old. Despite the typical sibling rivalries (Colin swapped the green crayons for red crayons on colorblind Jonny: "
it was a bloodbath,
") the Greenwood children looked out for each other. Older sister Susan was particularly influential on her brothers' taste in music as teenagers: "
she's responsible for our precocious love of miserable music. The Fall, Magazine, Joy Division. We were ostracized at school because everyone else was into Iron Maiden.
"
The Greenwood brothers
Colin has described his brother as very funny, gentle, and polite. In early interviews he quipped: "
It's wonderful, it's good, [having Jonny in the band] makes my promise to keep an eye on him for my mother a lot easier, having him right next to me all the time. But he's very easy to look after anyway, cos he's very well behaved.
" And in another interview, "
The trouble I think is that beyond the normal brotherly thing, I respect him as a person and a musician. I mean, Jonny's a great fucking guitarist which makes up for a lot of his unsavoury personal habits.
"
Their mother wasn't impressed by their choice of careers. "
My mom wants me to be a lawyer. Occasionally I play the music for her when she demands to hear it and she always just says, 'Who is that singing? I don't like the singing.' And then she says 'Who's doing all that bumpety-bump noise?' It's all noise backing up horrible singing as far as she's concerned. She's not a show-biz mother.
" When the band signed a recording contract, Colin's mother refused to tell his grandfather, fearful that the shock would kill him.
"She thought Jonny was being dragged away by the forces of evil," confides Colin the day after the Rhode Island gig, chain smoking Camel cigarettes inside the tour bus now parked outside the Avalon — the venue for tonight's Boston show. "She got a bit better when she saw us on Top Of The Pops. Mind you, she thinks everyone on that programme's a drug-taking lunatic. Actually, she's not happy unless she's worrying. Very Radiohead, that. We're all worriers, you know. Even when there's nothing left to worry about."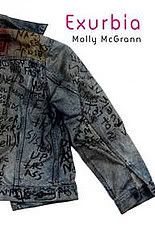 In December 1998, Colin married American writer, poet, and literary critic Molly McGrann, whose critically acclaimed debut novel
Three Sixty Flip
(Picador, 2004) explored suburban ennui and the disconnection of generations through the eyes of an adolescent skateboarder. Her second book,
Exurbia
(Picador, 2007), was just released. Given his near-obsessive love of literature and the similar themes running through some of Radiohead's recent music and
art
, we can only assume that in Molly, Colin found a perfect mate.
"I'd always fancy someone who's brainy and a good mover over someone sitting there in the corner reading poetry and scowling at everyone on the dance floor."

The early 2000s saw Radiohead members settling down and starting families. Colin said of the band, "
We have all become parentally inclined and that's a good thing.
" In 2003, Colin lent a hand on Jonny's debut solo album
Bodysong
by playing bass on the track "24 Hour Charleston." In December that year, Colin and Molly welcomed their first child to the world. "
There's a lot of pressure on me and Ed [also expecting at the time] to deliver a girl. Phil [Selway] has three boys, and Thom and Jonny both have boys. Whoever has the first girl will be very popular with the other band members.
" So much for wishful thinking:
"Hello There! This is Colin Greenwood, bass player and elder statesman of English Rock Band Radiohead. After enjoying their music back home in Blighty, I had the pleasure of meeting two of the chaps from Operatic. We met for lunch in Long Beach, and they were kind enough to drive me back to Los Angeles, although they didn't seem to know where it was. On the drive, they played me some more of their charged sounds, provoking misty eyed reminiscences of Killing Joke and Gang of Four for this old codger. I'm looking forward to seeing them in concert, as long as they're not on too late and it's not too loud. In fact, I liked them so much that I've named my first born after their lead singer!"

Operatic
's (now former) lead singer and Greenwood spawn namesake, Jesse Fritch, also happens to be a pro skateboarder and Sirius Satellite Radio host who bears a passing resemblance to the young man on the cover of
Three Sixty Flip
. His familial connection to Radiohead? "
...my cousin Molly is married to Colin,
" Fritsch said. "
I speak with [him] fairly regularly.
" Colin has been very supportive of Fritch's musical endeavors, calling Operatic's EP
Killing Us is Easy
, "
a breath of fresh air in a boring, cluttered climate of sameness in underground music,
" and adding that their "
lush and melodic instrumentation and deliberate and punctuated rhythms make Operatic a very exciting new prospect in the world of indie rock.
" Operatic disbanded in late 2006, and Fritch has formed another band called
SayVinyl
with members of Counterfit and First Wave Hello. San Diego CityBeat has described their sound as having "a low-key, indie-pop feel akin to Death Cab for Cutie." It will be interesting to see how he follows up on such a promising start.
Colin and Molly have since had another son, Asa, and adopted a couple of puppies. They live in Oxfordshire:
It's a pleasant summer's evening drive to the village where Colin Greenwood and his wife Molly live. There isn't, in fact, very much to the village itself. Just a car showroom and The Harcourt Arms — a pub set amid gardens with several fibre glass constructions for small children to climb on. One of these is a tree. If you stood inside it, you could create your own low-budget version of the There There video, in which some manner of woodland voodoo leaves Thom rooted to the spot...
The house itself is amazing — sixties modernism set amid fertile forest and lush greenery. In the main living area is a balcony which houses an upright piano and Greenwood's record collection...
Away from the hubbub, a wooden pathway leads us past the vegetable patch and into a candlelit grotto. Hidden amid the trees at the end of this is a sunken rectangular pit which, tonight, pays host to a crackling bonfire.

Steve Lamacq poking around Colin's garden
RESOURCES FOR THE COLIN WANNA-BE